So the other day Maverick .. wanted to put one of those large dildo drift shifters in my car I yelled at him profusely and then hung up on him. Well this young lady helpped me see the bigger picture ..my views on it have softened.. or hardened .. if you get my drift .. Ok I'm sold!!  Lets install it It does make me feel wierd to watch this young lady attack the dildo shifter . I mean I guess i am imagining i am the dildo .. but she is making the dildo look delicious .. ok well…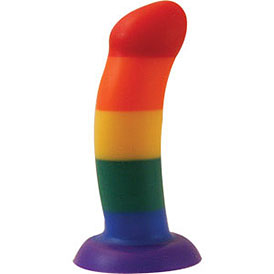 Here's a new dildo for the proud. Size: 5-1/2″ x 1-1/2″ Material: Silicone The shape is just the same as an Amor Dildo – a relatively short shaft with a perfect G-spot curve, lightly textured silicone surface, and comfortably harnessable base – but this one is hand-poured in all the colors of the rainbow! This is a limited-edition from Babeland and is perfect for any kind of a playful romp, and ideal for upcoming LGBTQI Pride festivities. Use your Rainbow Amor with pride and pleasure!
This is Maverick He is our Chief dildo reviewer.  Here you will find anything and everything about the special dildo in your life.